Main Content:
Big and Tall Mens Clothing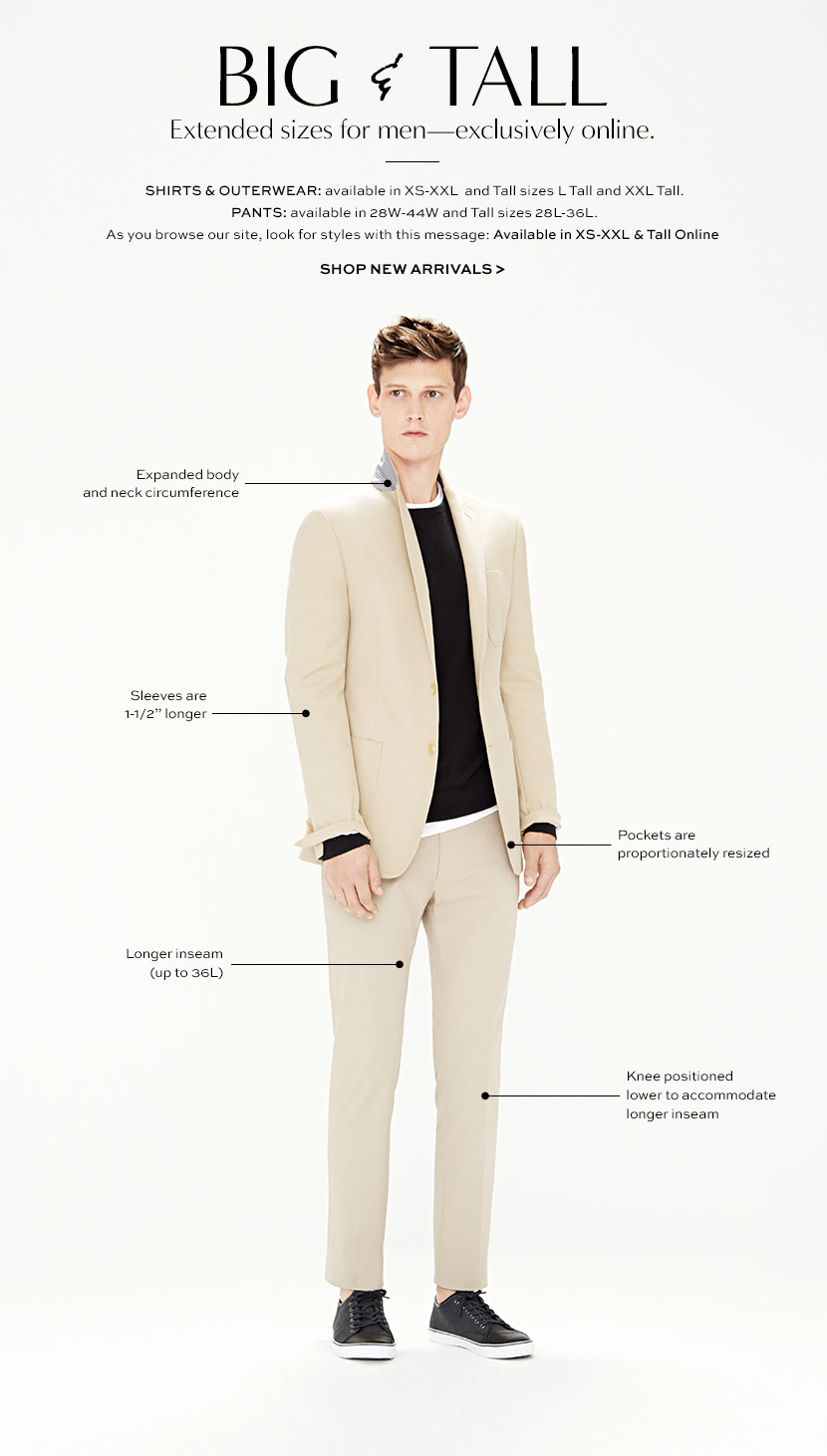 Find Big & Tall Men's Clothes at Banana Republic Online
Banana Republic is your go-to place for the latest big and tall clothing for men. From tailored jackets and trousers to classic sweaters and polished shirts, our big and tall clothes are made to flatter.
Modern Styles And Details
Each one of our men's big and tall styles is made with precise attention to fit and detail. You want to feel great in your clothing, but you don't want to sacrifice personal style. That's why we make big & tall clothing that mixes classic and contemporary elements so your wardrobe feels current and sharp. Whether you're shopping for business wear or casual wear, our diverse collection of big and tall men's clothing has everything you need. On-trend designs are accented by unique and timeless patterns, and a versatile color palette makes outfitting easy. We have our eyes on the latest trends, so your clothing feels polished yet never dated. Take these styles from morning coffee to dinner and drinks with ease. No detail goes unnoticed when we create our big and tall men's clothes, so you can feel cool, confident, and ready to take on whatever comes your way.
Flattering Fits Just For You
Our men's big and tall clothing is designed with longer sleeves, longer inseams, larger neck and body circumferences, and proportional details. You should feel and look natural when wearing your clothing, and our men's big and tall clothes make that possible. Whether you're looking for relaxed or fitted styles, you can find a wide range of sizes in our big and tall assortment, so you can find the style and fit that works best for you. Never settle for anything less than ultimate comfort, perfect fit, and style that suits your mood and personality. The good news is, our styles have it all. Feel glad to get dressed in the morning with of-the-moment pieces that feel as good as they look. High quality fabrics like wool and linen are expertly tailored for precise fit, and crafted to keep up with your busy lifestyle. You'll turn to these reliable pieces season after season.